Its Very important to find the Right size of eyewear you intend to buy online. The Amazing thing is that its Super easy to Find your Right eyeglasses Size. We have put together a guide that would assist you to make the process quick and easy. Here's what you need to know when looking for your eyeglasses and sunglasses frame measurements.
1. READING YOUR FRAME SIZE FROM YOUR CURRENT EYE GLASSES
To ensure your frames fit perfectly, first determine which size frames are best for you. The best place to start is with the eyeglass measurements on a pair you already own.
First, check for the three little numbers on the inside of the temple of your glasses or inside the nose Bridge. Some may also refer to the temple of the nose bridge as the "arm" of your glasses These three numbers are the frame's measurements.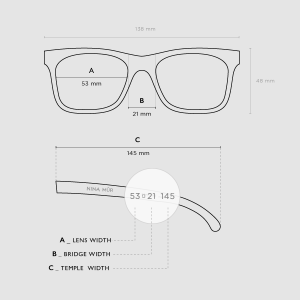 2. USING A RULER
There are cases that your frames are old , you might find the numbers faded. This may make it difficult to use the method above. Using a Ruler to measure the frame is the Next Simplest way. For this you would need a Millimeter Rule and Pen (to record the findings)
Take note of the ranges below to avoid any mistakes.
Lens Width/Diameter – The horizontal width of each lens in millimeters. It ranges between 40-62mm.
Bridge Width – The distance between the two lenses in millimeters. It ranges between 14-24mm.
Temple Length – The length from screw to temple tips. It ranges between 110-150mm.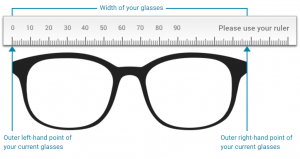 3, USING CLOTHING SIZE
This is How you can use your Clothing Size to help you to Determine your eyeglasses size Like a Especially Purchasing eyewear online for the first time.
People who wear Small (S) size:
It is likely your face structure would be small too. In general, frames with less than or equal to 50mm of lens-width would fit you easily in case of eyeglasses. For sunglasses the width of 55mm or less should be your choice.
People who wear Large (L) size:
Your spectacles should be 55mm wide or more. In case of shades, this will be 65mm or more.
People who wear Medium (M) size:
You can go for frames between 51mm to 54mm of lens-width for eyeglasses and 56mm to 64mm for sunglasses.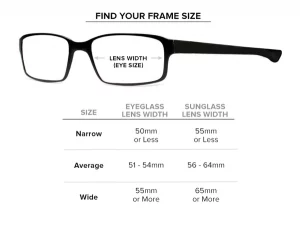 STILL CONFUSED
It's okay, happens! But don't worry. Give us a Call on 07083450655 or Send Us a whats app Message on 07083450655